The power of the connected aircraft
By Neelu Khatri, president, Honeywell Aerospace India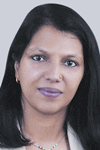 The aerospace industry will soon witness a monumental change, driven by the connected aircraft. What started as a revolution in the passenger experience about a decade ago has now forced airlines to re-examine what amenities are a must-have on each flight to stay competitive.
These developments can be witnessed in India as well. To make the travel experience for passengers as well as pilots safe and seamless, India's ministry of civil aviation has been taking advantage of advanced technologies. The ministry of civil aviation is developing India's existing infrastructure to make air travel hassle-free, and is planning to make regional connectivity affordable through the Regional Connectivity Scheme.
The impact of changes in connectivity and new technological adoptions will be felt well beyond the cabin. India, along with other aviation markets around the world, will soon enter into a software revolution from nose to tail and air to ground. The global aerospace sector is set to experience major changes in the near future that will lead to a cultural and business shift within the industry worldwide.
The software revolution, or digital transformation as many people are calling it, will open up data sharing in new ways and allow for ever-growing man-to-machine interfaces. For aircraft operators this means real-time solutions for weather, flight planning, auxiliary power units and engine trending, and predicted maintenance will be devised to make use of the gigabytes of data aircraft are generating on each flight that today are largely going unused.
Now that the global aerospace industry has access to high – bandwidth and integrated services within the aircraft, pilots and operators will be able to pull critically important data from the plane and create value from it. APAC is going to be the largest region for operating aircraft fleet by 2034, surpassing North America and Europe with triple the volume of aircraft fleet flying than there are today. With this in mind, airports and airlines in the APAC region need to strengthen their ability to cater to domestic and international passengers.
In the aviation sector, there is an increased demand for integrated services and connectivity globally. Pilots want advanced technological tools that put real-time information and data at their fingertips, allowing them to focus on flying. In this scenario, India's position as the third largest aviation market for domestic passengers calls for safer, faster, and more efficient and comfortable transportation – related experiences. These market developments and technological trends have encouraged Indian airlines and airport authorities to adopt the integrated services that pilots are demanding.
Recently, Indian airlines have adopted advanced software solutions to reduce fuel use and costs. These technological offerings provide a full range of data analysis, reporting and monitoring tools for enhanced fuel conservation.  In India, an airline experiences all types of terrains and weather changes. Weather radar systems are now accessible for pilots in the cockpit, which enable them to receive an accurate three-dimensional, 180 degree display of weather from the ground up to 60,000 feet.
Another growing demand within the Indian aviation market is the provision of in-flight connectivity for domestic passengers.  Today, passengers want a safe, comfortable flight with in-flight Wi-Fi and entertainment capabilities like the ones they get in the office and at home. To address this, the civil aviation ministry has started talks with the Directorate General of Civil Aviation to take steps toward implementing in-flight Wi-Fi in the near future to fuel the growth of domestic and global passengers.
As India embarks on a journey to build a nationwide regional network and connect cities, there needs to be a strong focus on supporting the aviation industry by developing a connected aircraft. The power of the connected aircraft lies in enhancing the concept of aviation, enhancing how airlines operate, enhancing how passengers fly and taking this industry into the digital age.