Tourism has the biggest multiplier effect: K J Alphons, Union Tourism Minister
India should target 20 million inbound tourists by 2020, said Union tourism minister KJ Alphons during The Indian Express Round Table Conference (RTC) in New Delhi recently. "Last year, we crossed the 10 million mark in inbound tourists but that's really nothing. India needs to do so much better and reach the target of 20 million by 2020," Alphons said. He added that "tourism is contributing over 6.8 per cent to India's GDP and the sector employs 84 million people". The theme of RTC was "20 Million inbound travellers by 2020".
However, the minister admitted that there are some areas we need to work on to reach the ambitious target. "Our monuments need to be better maintained, so we came up with this idea of Adopt A Heritage." He added that even though big protests happened, the ministry held their ground. "It's all about all Indians feeling that this is my heritage, and not some babu sitting in some dusty office saying no one should touch the monument," said Alphons, adding that he hopes the "protests are now behind us."
As per the Adopt A Heritage scheme, while Delhi's Purana Qila has undergone a facelift in collaboration with NBCC, the minister said that Red Fort complex is being redone along with the Dalmias. However, "the only thing I won't give for adoption at the moment, till elections are over, is the Taj Mahal," he said.
The minister also touched upon other problems hampering tourism such as cleanliness issues. "India fundamentally has a lot of problems. Swachh Bharat has dramatically changed things in the last four years. And that's where tourism is going to benefit greatly. Cleanliness just got to get into our DNA otherwise tourism just won't work."
Alphons also spoke about some of "our habits that need to change". "Why can't we leave people alone? When we see a white woman, people want to get closer. Why is this a national sickness?" he remarked. But he added that the number of such cases in India are few compared with many other countries. The minister also extolled the states to invest more in tourism.
"We have an incredible opportunity for adventure tourism since 70 per cent Himalayas are in India. Guidelines for adventure tourism have also been put in place but enforcement depends on states. But for the states, tourism not a priority at all. That's hugely shocking because tourism has biggest multiplier effect," he said.
Talking about his ministry's focus areas in the coming days, Alphons said they are going to focus on getting tourists from China and also on cruise tourism. In that context, he said he has sought a five-year tax holiday for the nascent cruise tourism industry.
An hour-long insightful panel discussion on the subject followed the minister's address. Moderated by Reema Lokesh, Editor, Express TravelWorld and Express Hospitality, the panel comprised Suman Billa, joint secretary, ministry of tourism; E M Najeeb, chairman & managing director, Airtravel Enterprises Group; Dipak Deva, MD, Travel Corporation of India and Kamal Hingorani, chief customer service officer, SpiceJet.
The panel discussion witnessed some candid and clear thought provoking ideas and pointers to prove further impetus to the inbound tourism potential of the country. The panel touched upon a series of pertinent concerns from taxation issues, visa concerns, marketing strategies and focus, from infrastructure development – land, sea and air – to sheer mindset change, there was a lot that was highlighted.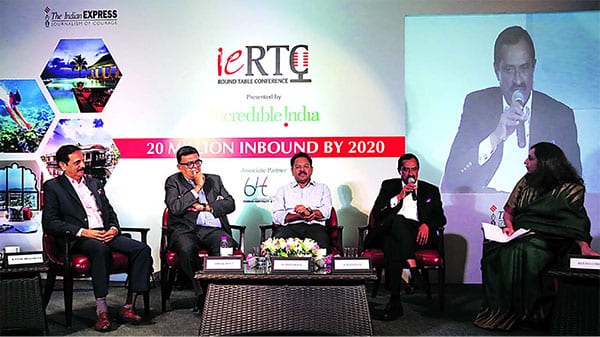 The discussion began with some pointed questions placed by the moderator to the panel. E M Najeeb, was has been one of the architect and team member of the well established Kerala Travel Mart appreciated the present government's effort to push tourism across the board from Prasad to Swadesh Darshan Schemes from Udaan to evisa. He also felt that what was discussed for years to have a international standard mart finally became a reality with the India Travel Mart 2018. He said that Kerala Travel Mart is what it is today due to complete dedication from both the public and the private sector to make it happen. He said we can achieve major milestones if the PPP model is looked at with utmost seriousness.
He further when on to say that for India to get the numbers, one has to focus on big ticket events and especially on the MICE segment. He once again reiterated that India needs convention centres and facilities to support the incoming MICE business. We do not need fancy convention set ups but rather functional ones which can take in the capacity and deliver quality. Convention centres need to be built away from the city to avoid any kind of infrastructure issues. Convention business is also all season insulated. He gave an example of ITB Berlin, wherein the weather and travel conditions may not be favourable at that time but the world comes into the city for the event. One such event gives a boost to other connected businesses in tourism namely hotels, ground services, aviation etc.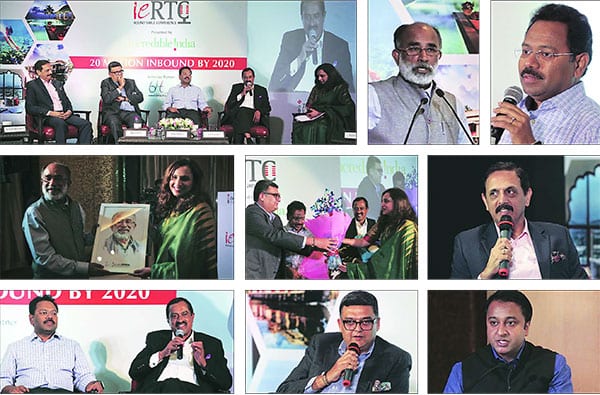 His views were further supported by Kamal Hingorani, who was positive about the government's Udaan policy. He feels connecting smaller towns and cities is highly encouraging and their airline is also upbeat about this hopeful move. However he did touch upon the fact that aviation turbine fuel cost needs to be addressed, as the writing is clear that the aviation sector in India is bleeding. But he feels there is hope for an India that is extremely attractive for the inbound business and the aviation sector will only help aid this growth.
Dipak Deva, brought in an interesting perspective that the time has come to stop obsessing about 20 million. India is much more than numbers. We are number 13 in the tourism receipts, India emerges 3rd in the WTTC's power ranking marking absolute growth along with the US and China, the sector has created 14.62 million job opportunities in the country in the last four years. We have to focus on improving these Key Performance Indicators (KPIs). Ours is a fantastic tourism economy and it's important to see how to change these KPIs. Countries today are moving away from numbers. It is about bringing in the quality tourists, who will spend and benefit the economy in general. Further, he feels that there are two things that has caused an impact, one is the e-visas development and the other is the Incredible India 2.0 campaign, which according to him is world class and was implemented with a futuristic approach. Having said, that he feels, India is a complex destination, it cannot be sold like countries such as Singapore or a straight forward destination. One has to tailor make the promotions and the products. How we approach that is important. We are on the right track on the marketing front. It is work in progress. PR agencies are being appointed across the world which is very critical. We have a perception problem and that has to happen to change perceptions. The ministry is no doubt working on it. It is important to focus all marketing resources on the consumer and at different stages of their life. Consumer targeting is important to look at as India has a tourism product that fits all.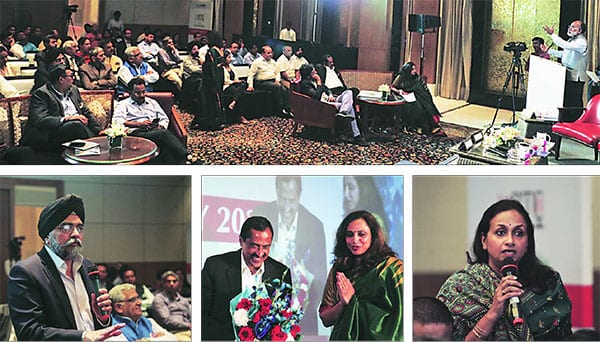 The round table was powerfully concluded with the thoughts of Suman Billla. He was clear that a target like 20 million in 2020 works, its not about numbers. This thought came in as we felt we need to make this a target not only for the government but for the industry. We have hit the 10 million and now we need to hit 20 million. We have to do it as a counter challenge. We have to go up to those who holds the keys to open the doors for us and we need to ask them to clear certain bottlenecks to achieve this target. That job still remains unfinished. We need to work on three pillars, one is to unleash the potential of the entrepreneur. We need to make the industry competitive by lowering the rate of tax. 28 per cent is just bad optics. The government needs to take an entrepreneurial position here by saying that if one lowers the rate of tax what will the government earn five years or three years hence. Secondly, one need to bring the tourism industry, the hotel industry within the ambit of infrastructure status. Today we are falling between two stools, we are neither real estate and the RBI says we are not infrastructure. Tourism is getting the worst of the deals. If one believes that tourism is the one that augments employment in an framework that is environmentally successful, then one has to bring it into infrastructure status. We have to make our voice heard. Further, we have to change the game plan and think more aggressively and attack the market. One has to do a lot more deepening, he said.