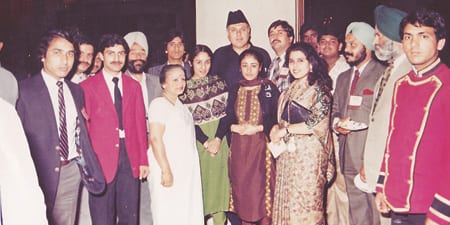 Conceived in 1943 by a Danish gentleman, Johansen along with a local youth, Ali Mohammed Gosani, Johansen Travel Agency has the distinction of being the first travel agency in Jammu &Kashmir. Today, 72 years down the lane when its progenitors are no longer in the picture, the company continues to lead from the front to put this destination they call Paradise on the world tourism map By Steena Joy
Pioneering tourism in Jammu & Kashmir (J&K) since the pre-independence era, Johansen Travel Agency (JTA) has come a long way. In these last 72 years, the company has been catering to a large percentage of both international and domestic tourists visiting the Himalayan states of J&K, Himachal Pradesh and Uttaranchal. The company has contributed tremendously to the upliftment of tourism by opening up new areas. Treks hitherto unknown especially in the Valley of Kashmir and Ladakh were opened up in the late 60s and the initial 70s, thanks to efforts put in by the company's young executive then and now its managing partner, Rashid A Gosani who along with the German school of trekking and mountaineering, Dav Und Skischule Munich conducted some first-of-its-kind treks in Ladakh, Nubra and Zanskar. Gosani says, "There was no set up for tourism and infrastructure viz accommodation or transportation in J&K. The only accommodation available was Doonga (small houseboats for personal use by locals). A commercial touch was given to these boats by the British officers stationed in Kashmir as they could buy these boats being movable property. There were hardly any vehicles and for local sightseeing tonga (cart pulled by horse) was used. The soldiers who wanted to holiday in J&K came in their own vehicles by road from Rawalpindi which is now in Pakistan. It was very difficult to do business in those times; however both Johansen and Ali Mohammed Gosani worked very hard and it was because of their efforts, they were successful."

Rashid Gosani has continued with the legacy inherited from his father the late Ali Mohammed Gosani who along with Johansen, a Danish gentleman set up the agency in 1943 to cater to army personnel during their holidays in J&K at that time. With offices in Srinagar, Ladakh, Manali and New Delhi, the company over the years has built some beautiful deluxe houseboats located at prime locations on the world famous Dal Lake in Srinagar and also hires other houseboats on both Dal and Nagin lakes. The company can cater to trekking expeditions of nearly 100 pax at a time and sources its state-of-the-art high altitude gear like tents, sleeping bags, etc from the German company Salewa.
Gosani agrees that a lot has changed now. "Earlier, there was no support to promote tourism from the state government but now the government is going all out with efforts to bring more tourists to this part," he mentions. There are around 500 houseboats on Dal Lake divided into different categories but there are not enough good standard houseboats. Commenting on the pollution in the lake, Gosani says, "The pollution problem is not only the creation of houseboats but also by the hotels situated around Dal Lake. A houseboat commonly has three bedrooms while the smallest hotel is not less than 10 rooms. All the residue of these hotels mostly goes into the lake. There have been many discussions and promises made by the government body known as LAWDA but not much has been done in this regard. If nothing is done soon, there is the threat of the Dal Lake disappearing."
Last year's floods in J&K devastated the Valley and stopped tourism in its tracks. Gosani reveals, "Tourism is the first thing to get affected in these kind of situations. Last year in September when we had these terrible floods which was never seen in the last 100 years, we were expecting a very good volume of business . But due to the floods most of them cancelled which affected our peak season by 65 per cent."
He feels that it is very important to maintain the carrying capacity of the Himalayas. "This is where the Indian Mountaineering Foundation (IMF) and Adventure Tour Operators Association of India (ATOAI) comes into the picture. Any group which goes on an expedition has to take a permit from IMF which also makes sure that not more than the carrying capacity goes on a particular expedition," he asserts. The company does it own bit in creating awareness. "The Himalayas being an eco sensitive zone, we always try to give detailed information to guests about do's and don'ts. For example, we inform our expedition teams not to use any polythene bags as polythene is one of the biggest threats to our environment. We also advise them to take perishable food items and light luggage so that less ponies are used," informs Gosani.
Expressing his thoughts on the future of tourism in the state, he sums up, "The future of tourism in J&K if organised professionally with the help of J&K Tourism Department is very bright. A lot of training is required for local youth who want to make tourism their career. The tourism department should take the initiative of introducing tourism courses in the colleges."
The company plans to get into e-commerce at the earliest. Gosani opines, "We believe the future of travel is online. Being the oldest and one of the most reputed travel agents in the Valley, our name in the market for last 72 years, makes it a bit easier for us to penetrate this field. We also have plans to open internships for youth who want to make careers in this field. This will help us to have good and experienced staff and will open a lot of jobs in the market. At the moment we have no choice but to appoint staff with no experience at all. Also we are planning to open a training course for professional guides in the Valley. At the moment we do not have any professional guides which are approved by department of tourism of J&K. We are planning to take up this initiative with the help of the department."