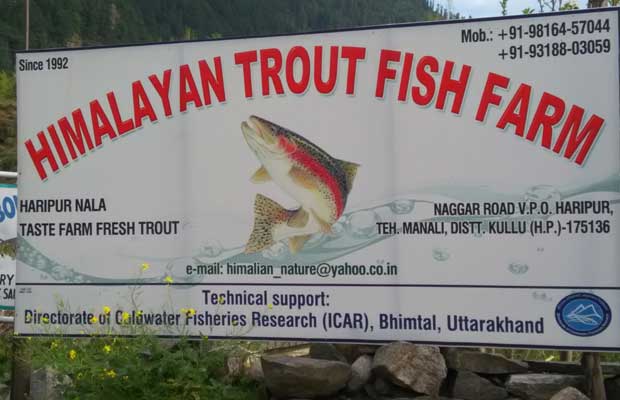 A unique experience that is slowly gaining popularity among tourists to Himachal Pradesh is trouting, either for consumption or for angling. Brown or rainbow in colour, this fish is found in the snow-fed Beas, Sutlej and Ravi rivers in the higher reaches of the state where the temperature of water is around freezing point. Himachal Pradesh has over 100 trout farms mainly in Kullu, Chamba, Shimla, Kinnaur and Mandi districts and has been promoting these farms to boost their production. According to a study by the Agro-Economic Research Centre of Himachal Pradesh University on trout farms in Kullu, Mandi, Shimla and Kinnaur districts, the average annual production of a small fish farm is 900 kg, and a big farm is up to 3,400 kg.
I came across one such farm during my recent visit to Manali. The Himalayan Trout Fish Farm on Naggar Road, Haripur is on route to the famed International Roerich Memorial Trust in Kullu Valley.
Though the farm's signage is unimpressive, the walk through the narrow flight of stone stairs spiraling downwards leading to the farm is scenic because of the striking contrast created by the varied outdoor and indoor seating arrangements set amidst a man-made garden and a small fountain in the middle.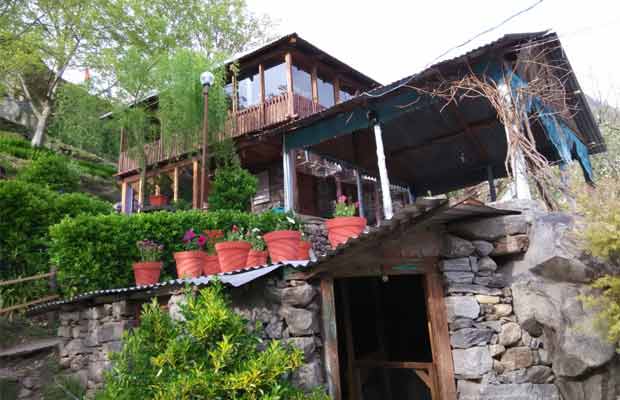 A further walk downward leads visitors to the artificial breeding centre of the trout fish. The breeding centre is divided into several sections based upon the different growth stages of trouts. A staff member briefs visitors through the entire artificial breeding process of trouts, which takes around two years to complete. Post the tour a menu card with a decent variety of trout dishes is handed over with the basic dish starting at INR 500. After a couple of minutes of waiting, the trout is presented beautifully onto a plate complementing the ambience of the place.