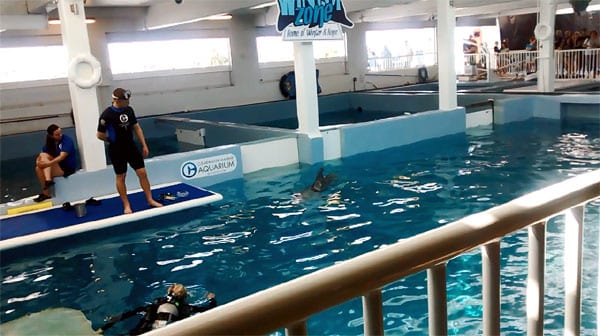 The story of Winter's tail
Clearwater Marine Aquarium, a rescue centre and hospital for marine animals in Florida, is home to probably the world's most loved dolphin – Winter, the star of the famous movie Dolphin Tale
Clearwater Marine Aquarium (CMA) in Florida houses two of the world's best known dolphins – Winter and Hope. CMA houses rescued dolphins, sea turtles, river otters, and sting rays. The most famous inhabitant is of course Winter, a dolphin without a tail, who has been the subject of the movie Dolphin Tale. The sequel Dolphin Tale 2 is the story of another famous inhabitant – Hope.
Winter had arrived in CMA in December 2005, following which CMA launched a global media campaign about her inspirational story. The movies Dolphin Tale and Dolphin Tale 2 were box office hits. A lot of time, money and effort has gone into developing Winter's tail, which has had a another positive impact that has benefited thousands of people using prosthetic limbs across the world.
The gel used for Winter's tail is being used by thousands of people with artificial limbs. The benefits have been way beyond Winter. It has also fueled a wave for animal prosthetics around the world.
In fact it took almost nine years of painstaking efforts and research to develop the tail. Nobody had made a tail for dolphins before – many tails were made over the years, in partnership with Hanger Clinic. While it looks like a very simple tail, a lot of hi-tech research has gone into it, to make it fit properly, and it is being modified all the time. Dolphins have very sensitive skin, if Winter does not enjoy the tail, she would not wear it. It also gives her physical therapy for her back.
As far as promotions are concerned everything that CMA does is tourism based. St Pete / Clearwater has in fact emerged as an important destination in Florida in recent times. Though the destination is yet to get many visitors from India, its varied attractions could be a great draw for Indian visitors.