Vistara to commence operations from January 9, 2015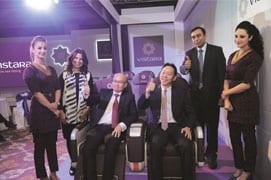 Archana Sharma – New Delhi
TATA's full service carrier in partnersip with Singapore Airlines- Vistara will commence its first flight operations effective January 9, 2015. The airline will initially operate on Mumbai and Ahmedabad sectors. For its operations, the airline will operate a 148-seater A320-200 with 16 seats in business class, 36 in premium economy and 96 in economy. The airline will operate with two Airbus aircraft and expects to add another three aircraft by March 2015.
Phee Teik Yeoh, chief executive officer, Vistara, said, "We plan to delight our customers with personalised services and bring the joy back into flying. With our end-to-end customer experience from booking and boarding to post flight services, we want to become the airline of choice." The airline has already opened its bookings. It had earlier planned to launch services on October 15, 2014 on the first flight anniversary of the TATA Airlines but received the Air Operator Permit (AOP) on December 16, 2014. The airline also unveiled the first look of its cabin along with the brand music, in-flight meal service and its tagline 'Fly the new feeling'.
Yeoh further informed that the airline will have 20 operating aircraft in the next four years. "The company will not neglect from expediting the fleet-strengthening process if market conditions improve and we are even considering bringing in wide-bodied aircraft in case the government relaxes the 5/20 rule for domestic carriers," he said.
Vistara will be the first full-service carrier in India to offer premium economy seating. As per Giam Ming Toh, chief commercial officer, Vistara, "The three-class configuration has been chosen after doing a detailed consumer survey and there is an 'unfulfilled desire for greater personal spaces and comfort' in the Indian market." It is also the first airline in India to offer a value-based frequent flyer programme called Club Vistara, wherein loyalty points are accrued based on actual spend on the ticket fare rather than miles travelled.
Talking about the sales strategy, Toh said, "We have already set up a 24×7 customer care centre and a sales booking engine will also be introduced soon. We are also partnering with major global distribution systems, online travel agencies, travel management companies, and big and small agents in India but we don't work on the commission structure."