Visitor arrivals from India to Australia crosses 300,000 mark
Visitor arrivals from India to Australia has crossed the 300,000 mark as recorded by the Australian Bureau of Statistics (ABS) for the year end December 2017, an increase of 15.4 per cent over the previous year.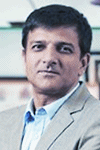 Nishant Kashikar, country manager, Tourism Australia India and Gulf comments on this achievement saying, "We had planned to achieve the target of 300,000 visitor arrivals from India to Australia by 2020. It is then with great pride to know we have already crossed the mark three years before the actual deadline. We have introduced several facilities to make this happen, one being, the online visa applications. Just sitting at the comfort of their homes, travellers can fill in their visa form with a click of a button."
These new statistics makes India the eighth largest inbound market for arrivals for the year end December 2017. In the year end December 2017, 70 per cent of Indian visitors visted Australia for leisure. Other visitors travelled for business, employment, education and other purposes.
"Our team focusses their efforts on the right Indian segments and through various marketing strategies, gets the message of Australia out there. We have partnered with Balaji, Sony, Star Plus, Living Foods, etc. Channels and through content-generation in serials, we promote Australia as a 'must visit' destination. We believe in exhibiting products that provide experiences as that is something our visitors will stay with long after they have returned to their hometown," he says.
He further mentions how through webminars, training is provided as to how the tour and travel operators can market Australia to the Indian public. "We are mainly targeting the Indian MICE and wedding market as we see a huge potential in these segments. Australia provides world-class facilities like a private yacht, sky diving for the adventure-hungry travellers and amazing convention centres and connectivity for business travellers. The Indian travellers is growing to be more value-conscious and they are willing to spend for a high-valued experience which Australia at every step fulfills."