Vietnam looks to increase tourist footfalls from India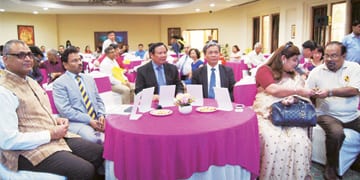 Archana Sharma – New Delhi
Looking at encouraging Indian travellers to visit Vietnam, the S R Embassy of Vietnam to India recently organised a roadshow in association with OM Tourism, in the presence of officials from the Vietnam National Administration of Tourism (VNAT). Discussing the various challenges faced by the destination including direct connectivity, Nguyen Van Tuan, chairman, VNAT, stated that availability of information about the various Vietnamese attractions for the Indian traveller is lacking. He said, "With the recent Jet Airways flight connectivity there has been a surge in tourists to India (around 200,000 travellers visiting especially for Buddhist circuit tourism), however, only around 50,000 Indians visited Vietnam." Tuan informed that presently China is the top source market for Vietnam.
Elaborating on the flight connectivity, Jaideep Massand, sales manager – India, Vietnam Airlines, stated that they are looking at adding more routes by 2018 but the plans for the India market haven't been decided as of yet. "We are looking at operating direct flights to India and will continue discussions to achieve the same," he mentioned. Presently, Vietnam Airlines is operating at 57 international and 39 domestic locations and observing approximately 15 per cent growth. Massand also informed that they are looking at increasing the international locations to 80 and domestic to 42 by the end of 2018.
Focusing on the long standing relations between India and Vietnam, Suman Billa, joint secretary, ministry of tourism, Government of India, stated that both the countries enjoy immense synergy and with further development of the Buddhist Circuit in Bodh Gaya and other parts of India, more Vietnamese travellers are bound to visit India. "To encourage more travellers from Vietnam, we will also be organising roadshows in their region," he added.
VNAT will organise the third Vietnam International Travel Mart from April 3-6, 2015 in Hanoi, and the 11th International Travel Expo from September 10-12, 2015 in Ho Chi Minh City.