Paytm's big customer base driving travel business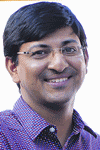 The massive customer base of Paytm has been a significant factor in driving the rapid growth the company has witnessed in its travel business. Paytm has three categories in its travel vertical – flights, buses, trains. Buses is the oldest category and when it was launched the company was testing waters regarding the travel vertical, but within six months it became the number two in the country for bus ticket bookings. The success enabled the company to look at other segments like flights and trains. "Last year around June -July we had launched flights, and in October we launched trains. We have seen phenomenal growth in both flights and trains. Already we are among the top three in terms of the number of tickets that we sell," said Abhishek Rajan, head of Paytm Travel.
For both flight and trains the first six months has witnessed 100 per cent growth month-on-month. "Now that we have a very high base, the growth is not 100 per cent but very high and we hope in the next 12 months, we should be at least three-four times of our current numbers," remarked Rajan.
Acknowledging that the large loyal base of customers has attributed to the growth, Rajan stated, "Train was a surprise for us – we never expected it to become a big category. I am happy to say that today we are IRCTC's largest partner, in terms of the tickets we sell. We sell more tickets than any of their online-offline partners." He mentioned that the business has been growing organically, despite the fact that they have not given any incentive/ cashback to customers. A large part of the growth, he believes is due to the fact that customers find it more convenient to book train tickets on Paytm than the other available options.
For now the company is looking at strengthening its core categories of flights, buses and trains, before looking at hotels, holiday packages, car rentals, and ancillary segments like travel insurance. "In the next nine months we want to increase our numbers by 3X or 4X. This year we will focus a lot on product experience as this is a great form of marketing if you can enhance customer experience their chances of coming back to you is very high," stated Rajan, adding that at this point of time, the company is not looking at any acquisition in travel space, but it is not ruled out in the future.
Paytm's travel business is based out of Bengaluru, primarily for two reasons, buses was the first category launched which is predominantly popular in south market; secondly to tap into the tech pool in the city.