Our brand strategy is to travel with the Erdinger Hut around India
Erdinger Hut is a modular pop up curated by the Bavarian Soul, an Indian event and hospitality company. Franz T Festl, director, Bavarian Soul Hospitality, highlights how he is offering a taste of true Bavarian culture to his customers in this country
What is the brand strategy of Bavarian Soul Hospitality for the Indian market?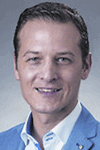 As this hut can be set up anywhere within a day or two, our brand strategy is to travel with the hut around India, take it to different cities, like Bangalore, Chandigarh, Delhi, Jaipur, Jodhpur, and others to curate festivals with the hut as the centre of attraction. One can also rent out the hut for weddings, corporate events, private parties, etc.
What is the nature of your collaboration with Erdinger, with special reference to this market?
Erdinger is the world's most famous wheat beer and in India, since many years it has been the only foreign/ imported beer brand on tap. Bavarian Soul has teamed up with Erdinger to further market the brand through the Erdinger Hut and create a stronger bond between the two cultures. Erdinger invested in the hut and this is a collaboration between Erdinger and Bavarian Soul in order to increase Erdinger's presence and market in India.
What are your unique F&B offerings and what has been the response in India?
With Sofitel, we've created a proper German food menu in order to complement the authenticity of the hut. India, especially Mumbai is getting more adventurous when it comes to food, so we are trying to give them a proper German experience, not only with the setup but with beer and authentic German food as well.
How do you foresee Erdinger Huette becoming popular in parties?
My aim is to showcase the hut as an event structure that doesn't necessarily always need to be German with an 'Oktoberfest' set up or feel but can be decorated and used in any way or form to the customer's liking.
Are you also targeting the corporate segment for this?
Absolutely! We are trying to get into the corporate sector via other event companies by offering them the hut to present to their customers. We don't want to be another event company doing events on our own. We also want to work with established event companies by renting out the hut to them and using their already established customer base and set up to promote the hut setup.
In cities like Mumbai where space is a constraint, where can Erdinger Huette be put up?
There are multiple options. The hut itself only needs 33×33 ft as space, with the beer garden its 60×60 ft. There are a number of places where you can set the hut up. The options are numerous. Whether it's an open ground, at the beach, or in a mall's courtyard, a private land, farmhouse, Alibaug on the beach, etc.