Monaco partners with Lakme Fashion Week 2015 to promote the destination for weddings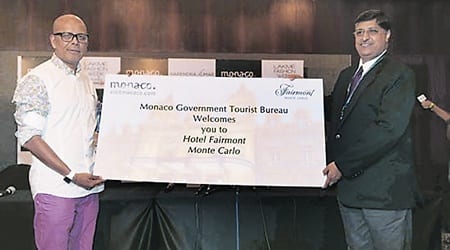 ETW Staff – Mumbai
Monaco Government Tourist Bureau recently associated itself with Lakme Fashion Week Winter/ Festive 2015 where celebrity designer Narendra Kumar showcased his collection inspired by the fashion character and style of Monaco. The collection was titled as 'Monaco Diaries' by the designer, whose clothing line was about destination wedding and the journey. The collection was inspired by Audrey Hepburn wherein Kumar did an amalgamation of the old-world charm and yet kept it for the new-age Indians.
Rajeev Nangia, director, Monaco Government Tourist Bureau said, "We are targeting the young and new-age Indians who have taste for the best. The Lakme Fashion Week gave us the perfect platform to showcase the destination through Kumar's designs. He has blended his collection with the Indian taste but has not compromised on elegance, glamour and opulence which Monaco is known for. We wanted to showcase Monaco to the discerning audience who are inclined towards travelling in style. Destination weddings have become a recent trend among Indians. Monaco has hosted a few Indian weddings in the past and we want to reach out to the consumers who are looking for newer and luxurious destinations."
The fashion week was witnessed by various people from across the industry and by many renowned fashion designers and celebrities. Speaking on this occasion, Kumar said, "Monaco encompasses heritage, luxury and elegance – it's an appropriate collaboration as these characteristics reflect in my own sensibilities interpreted through modern silhouettes combined with traditional craftsmanship and sharp tailoring."
British model and former footballer, Stephen James walked the ramp. The principality of Monaco has been long associated with fashion, glamour and luxurious lifestyle. It is synonymous with beautiful people, glamour, casinos and its famous Grand Prix.