Mauritius eyes 100,000 Indian tourists in 2018
Mauritius Tourism Promotion Authority (MTPA) is looking at attracting 100,000 Indian tourist arrivals in 2018, following a slight slowdown this year caused by demonetisation and GST implementation. In 2016, the destination witnessed around 83,000 Indian tourist arrivals, marking a growth of 15 per cent over the previous year.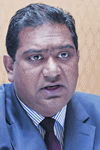 Kevin Ramkaloon, director, Mauritius Tourism Promotion Authority, said, "For us, as tourism board, India is an important market, among the top 10. Over the years, we have recorded significant growth in Indian tourist arrivals. Demonetisation and GST have hit the footfall a little this year. Our aim this year is to increase visibility of the destination. Mauritius completely suits Indian travellers."
As part of its annual travel trade interactions, MTPA recently organised a Tier I city road show in Mumbai, which featured 20 private companies including hotels, DMCs and attractions. The tourism authority organises Tier II city road show in April.
"We are promoting Mauritius as an experiential holiday destination in Tier I markets. We have seen a very good response," Ramkaloon said. Focusing on Tier II markets in India, he commented, "Travellers from Tier II cities in India are mainly interested in the wedding component, so we try to bring more attention on this segment during our road shows in Tier II markets. MICE tourism also has huge potential for us; we have large offerings for the MICE segment."
Next year, in addition to the existing offerings, Mauritius will highlight 50 years of its independence as a major tourism event. The destination will be celebrating the occasion from March 2018 to December 2018. "We also have over 40 event-based activities throughout the year. Mauritius also celebrates all key Indian festivals, which will further draw larger tourist footfall from India. As we move forward, we are also promoting cultural tourism," Ramkaloon said, adding that Mauritius remains a luxury destination, but for the dynamic and modern Indian traveller, it is certainly an affordable destination.