Kollam is now fast emerging as a MICE and Wedding Destination
The MICE tourism market is growing rapidly in Kollam and The Quilon Beach Hotel & Convention Centre in Kollam, Kerala is tapping on this increasing growth. Renjith Sreekumar, director, The Quilon Beach Hotel & Convention Centre discusses the hospitality scene in Kollam and the facilities they provide to support this growth
What are some of the unique selling points of Quilon Beach Resort?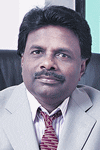 Some of the main highlights of the resort are the sea facing rooms with a panoramic view of the Arabian Sea, the ethnic Wine & Dine restaurant-Kuttanadu, the rooftop executive lounge and the large convention centre with around 1200 seating capacity.  We also have premium and executive suite rooms that offer a premium view of the Arabian Sea and The Spice Route. The honeymoon suite on the other hand comes with an elegant circular bed and hedonistic bathroom with all the modern amenities to make a couple's stay the most cherished one.
How is the hospitality scene in Kollam? Has the number of tourist arrivals showing a growth especially with Kerala Tourism promoting North Kerala?
The Quilon Beach Hotel & Convention Centre is the first five star deluxe hotel in Kollam, Kerala. It was established in the year 2004 by my father Er K Sreekumar with the vision of developing MICE Tourism in Kerala. During that time, Kerala tourism did mainly focus on leisure tourism segment and Kollam was a very underdeveloped city with less priority to tourism. Realising the importance and potential of MICE Tourism in Kerala, he did come up with the idea of developing a five star hotel with a convention Centre facility in Kollam, Kerala. Though the idea was seen as a high investment risk by many experts but it did revolutionise MICE in Kollam and Kerala. Many new convention centers and hotels were established in a short span of time. Kollam did host many major MICE events in a short span of time. Consistent and restless effort from us did pave way for infrastructure and tourism development in Kollam. As a result of it the Sea Port in Kollam was established by the state government and Kollam was declared as a tourism destination. Development of MICE tourism in Kollam has created thousands of jobs in a short span of few years. It has also contributed in large to the economy. We have been marketing Kollam as a destination for the past 10 years in all major travel-trade fairs in India and abroad and we have seen a major increase in the flow of tourists.
What about the meetings and conferences facilities at Quilon Beach Resort?
The corporates love conferencing by the beach with world-class infrastructure offered by The Quilon Beach Hotel & Convention Centre. Kollam is now fast emerging as a MICE and Wedding Destination. The Concept of MICE and Royal Weddings were first introduced to Kollam by The Quilon Beach Hotel. We haveVenadu which is an ideal place for friends and relatives for casual and informal kind of receptions and cocktails. The venue can perfectly hold up to 70 guests at one time. For meetings, there is Kollam, the board room which is an ideal luxury choice for meeting organisers who look for world class meeting rooms for their meetings which can hold up to 15 members.
Any future plans for expansion or any new resort in a new location in Kerala?
The company plans to expand and venture into smart budget hotels in major cities. Destinations in India will have more demand for the same in the near future. We also wish to focus more on the MICE and corporate segments of the tourism market.