IMC, VFS Global & Forvol Travel hosts 5th edition of Heritage Walk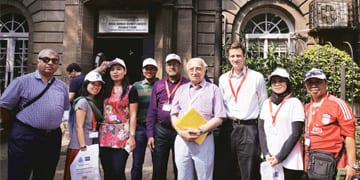 Akshay Kumar – Mumbai
Indian Merchants' Chamber (IMC) in association with VFS Global and Forvol Travel organised the fifth edition of 'Heritage Walk' on February 1, 2015 in Mumbai. The Heritage Walk witnessed members from the expatriate community of the city including consul generals of the US, China, Spain and Singapore. The walk started from the historic Forbes Building and ended at the IMC.
Pradip Madhavji, chairman, tourism committee, IMC, stated, "We started this Heritage Walk in 2007 with an objective to enlighten our travel community, to persuade the tourists to extend their stay in Mumbai by a day during their visit to the city's historical monuments. An additional stay of one night by foreign visitors to Mumbai will increase the foreign exchange earnings for Maharashtra in excess to approximately Rs 800 crore."
Thomas L Vajda, consul general of the United States for Mumbai, India said, " We had a wonderful time. The walk was an opportunity for us to learn a lot about Mumbai. I thank IMC and the other organisers for giving us a chance to explore the city in depth."
The Heritage Walk flagged off from the heritage Forbes Building and passed through some architectural wonders in the city including the Deutsche Bank, Badri Mahal, Commissariat Building, The Shantinath Jain Temple, Manekji Seth Agiary, Port Trust, The Mint House, Asian Building. The Heritage Walk also included brief visits to The Reserve Bank of India Museum, The Prince of Wales Seamen's Club and The Ballard Bunder – Navy Museum (not open to public) which was the highlight of the tour.
Sumit Mullick, additional chief secretary and chief of protocol, Government of Maharashtra said, "I congratulate IMC for organising such a wonderful and educative walk. Mumbai is a melting pot of architecture, we have a fusion of many international architecture. It was great to know about the visit to the Seaman's Club and the Navy Museum as it was specially opened for the Heritage Walk participants."