Hong Kong records rise in Indian tourist footfall by 18.7 %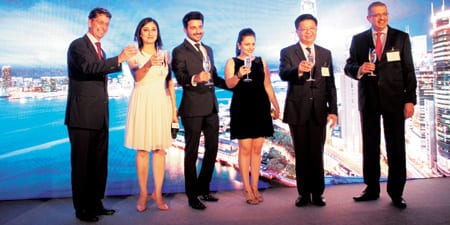 Akshay Kumar – Mumbai
With around 51,600 Indian travellers visiting Hong Kong in 2014, the nation has recorded a growth of 18.7 per cent last year. Hong Kong is visa free for Indian travellers for two weeks, which is one of their major USP. With a strong focus on the family and youth segment, the Hong Kong Tourism Board (HKTB) has unveiled its new marketing campaign titled 'My Time For Hong Kong' in the India market.
Peter Hoslin, regional director, Europe and New markets, HKTB said, "Our focus is strongly on the family and youth segment. We have some of the best theme parks which are quite popular amongst Indian tourists. We have opened a lot of new three and four star hotels last year with around 30,000 rooms. In India, we are very focused on the metro cities especially Delhi and Mumbai. We will also conduct a four city roadshow in Delhi, Mumbai, Chennai and Kolkata in August to further promote Hong Kong."
Last year HKTB witnessed a strong growth in the cruising and MICE segment, which was again popular amongst Indian travellers. Hoslin added, "MICE is extremely important for us. We finished the construction of a cruise terminal last year, on the top of the cruise harbour we have many MICE venues. We have got a range of Indian companies coming for MICE events in Hong Kong."
Anthony Lau, executive director, HKTB said, "In 2014, India became one of the best performing markets with a growth of 18.7 per cent. Last year was not an easy time for us due to the challenges of global economy. This year we are increasing our investments by 50 per cent in India. A lot of consumers these days are looking for experience rather than attractions."
With India being one of the fastest growing e-commerce markets globally, HKTB has also integrated the campaign with a digital strategy encompassing three channels- which includes the consumer website, designated social media accounts, and tailor-made mobile apps. HKTB has also launched a cross-channel digital travel guide called '3-in-1 My Hong Kong Guide', integrating web portals, mobile applications and social media along with android version of 'Hong Kong Insider's Guide'.