Fjords, Northern Lights draw Indians to Norway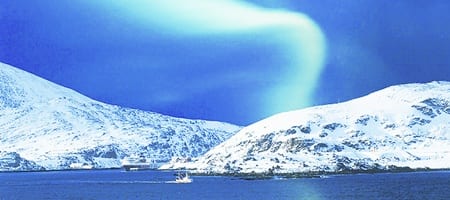 Sudipta Dev – Mumbai
Norway that is still an unexplored destination for most Indian global travellers, has interestingly been witnessing about 45 per cent growth from this market. The greatest attractions in Norway are the Norwegian fjords in the summers and the Aurora Borealis (Northern Lights) in the winter months. "The fjords are unique. These can be explored year-long, but in winter time because of snow, it is a bit complicated to travel. To see Aurora Borealis one has to go to the northern part of Norway. The Northern Lights are visible from October to end of March," said Per Holte, market director tourism, Asia and New Markets, Innovation Norway. North Cape is the northern most point in Europe, next stop is the North Pole.
Holte believes that Indian travellers are curious about the Northern Lights and the number of winter travellers has been growing in recent times. There are four-five tour operators who feature it in their programme. "If you stay two-three nights, there is 90 per cent guarantee that the Northern Lights will be visible. However the sky has to be clear," he said. Pointing out that because Norway lies on the Atlantic Coast, hence it is not so cold like Sweden and Finland, Holte stated, "The Gulf Stream makes it warmer. By the coast it can be zero to minus five degrees but if you come inland it can be minus 20 to minus 25 degrees.
Norway mostly has four-star hotels, though there are a few five-star properties. A big country of only five million people, Holte acknowledged that Indian travellers appreciate the beauty of the land, its silence, fresh air, and of course the sea food. "They also like to do shopping, we have quite a few shopping areas and many international brands. Since last year the Norwegian currency has been very low, compared to what it used to be so it is a value for money destination. It is about 20 to 30 per cent cheaper than last year," he stated.
In terms of flight connectivity the quickest option from India is Finnair from Delhi to Helsinki. Emirates and Qatar Airways also have direct connections to Oslo.